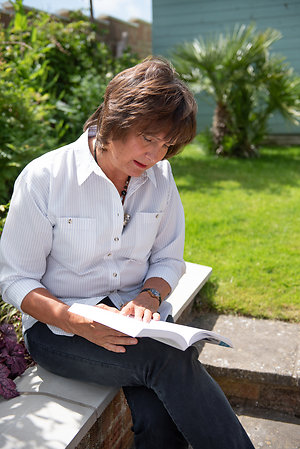 They say word of mouth recommendations are always best and these are just some of the reviews I have had about my service.
Thank you to all those who took time to feedback.

Amazing! I have never tried this before, it was fantastic. Very relaxing too!


I have regular reflexology and find it totally relaxing. I also believe it aligned my body as I fell pregnant soon after starting my sessions.
I defy anyone not to relax fully during one of Marian's sessions! Kind, caring & brings a little sunshine into your home with her positivity! Highly recommend.
Could not recommend Marian enough!! She did reflexology on me and my 12 week old son who suffers with colic and the results are amazing! My son is like a different child as she's taught me everything to do with him, and then I had 1 hour of reflexology myself and OMG she's amazing!!! Felt completely relaxed and enjoyed every single second of it!! Not only if she amazing at her job and very professional but she's a lovely lovely lady and I can't wait to see her again soon. 29.10.2019
Marian does a fantastic job… being a great advocate of reflexology, I was surprised to find that it can be very beneficial on the face also. Although this treatment wasn't reflexology per se… it is a natural face lift massage, incorporating a small amount of facial reflexology, lymphatic drainage, and unique lifting massage techniques. After my wife had mentioned it, I thought I'd give it ago. Wow, firstly I couldn't believe how relaxing it was. I'm not a particularly stressed person but could imagine how beneficial it would be. Second, I slept better as a result of the treatment and my face felt really invigorated afterwards and in the morning. My wife said the bagginess under my eyes also look less pronounced. I would certainly recommend this treatment without any doubt at all. Thank you Marian.
I just had the most amazing, wonderful 'face lift massage' - so much more than a facial massage, some of it works like reflexology and i just felt incredibly relaxed and peaceful! And to top it off I couldn't believe the results when comparing the before and after pics!! Well worth it, I really enjoyed the whole experience and Marian is just lovely!
Thanks to Marian, I am now sleeping five days out of seven through the night
Wow - just had a very relaxing session of Reflexology with the lovely Marian. She picked up on lots of areas I've been struggling with just by touching my feet. She puts you at ease, but was also happy to answer my inquisitive questions about what she was doing as we went along! Whether you have a specific health issue, or would simply like some time to relax and switch off, I can highly recommend Marian's services!
I had my first ever experience of reflexology with Marian yesterday. Not only did my feet feel great (and I use them quite a lot), it also left me feeling beautifully balanced mentally and physically. Relaxing and reinvigorating at the same time - and I slept like a log last night. I highly recommend booking a session with Marian.
Marian hosted a reflexology party for my birthday. Being 37-weeks pregnant I wanted something that would feel special and relaxing for me and my friends. She went over and above what was asked; creating a beautiful ambience and space in my home for my guests to each enjoy an indulgent reflexology taster session. Everyone commented on their positive experiences and I can't recommend her enough for both her skills as a reflexologist as well as holistic host. Give this a go if you're after something new and unforgettable! Thanks Marian xx
Thank you Marian, our little boy has miraculously been such a better sleeper since you came to visit us for reflexology.
Marian explains everything so well, and tells you what you're likely to experience. An amazing session which left me feeling lovely and her prediction as to what would happen after her she left was spot on. I've already booked my next session, so would highly recommend.
Marian is absolutely lovely, felt like I had known her for ages.
After an hour of reflexology, I feel the most relaxed I have in ages. Anyone feeling like they re-balancing or just an hour of pure relaxation I would thoroughly recommend booking an appointment
Marian's reflexology treatments are fantastic. If you've never had reflexology before, give it a go! Book now - quick, stop looking at Facebook and give her a call!!
Thank you Marian for another wonderful reflexology session you gave me and my 10 month old son. We both absolutely loved it and can't wait for our next one.
Another fantastic reflexology treatment from Marian. I was asleep again within minutes! So relaxing and thoroughly enjoyable - thank you!!
I had no intention of having a natural face lift massage, it was a purely spur of the moment thing, but I am really pleased I did. Not only was the whole experience really relaxing, but it has made such a difference. Facial lines seem to have really lessened and my skin has a much more plumped up, smooth and youthful appearance. I already knew Marian beforehand, she has given my daughter reflexology for a while to try and combat the affects of chronic fatigue syndrome. She manages to combine a professional approach but is friendly and calming and puts you totally at your ease.
If you are thinking of having treatments such as Botox or Fillers, I would suggest you try a Non-Surgical Facelift Treatment first, I really don't think you'll regret it.
Thanks Marian, I look forward to my next experience!
Thank you for going above and beyond our expectations this evening, can't remember the last time I saw my wife this relaxed and yawning so much. I'll definitely recommend you, what you do is incredible. Thank you.
After a reflexology session with Marian, I had the best night sleep in a long time. I slept all the way through - normally I wake up at least once every night. Recommended. She's super professional and explained what we were doing and made me feel at ease at all times. Thanks! ??
I think Marian is wonderful! My daughter has had reflexology with Marian and last time she tried some facial reflexology and my daughter totally relaxed (she doesn't relax easily) she was practically snoring!! Marian is passionate about everything she does and nothing is too much trouble, she loves helping people. She has all the knowledge from her years in the NHS combined with all her training in holistic therapies. I would recommend her to anyone.
I have now had several treatments with Marian and can't rate her highly enough. Amazing reflexology; feet and face, which have completely blown me away. One thing I find Marian gives you more than anything is her time, to work with you to get the most out of the session. Will continue with regular sessions to improve my health and well-being throughout 2018 and beyond. Thank you Marian.
I can not recommend Marian enough. She makes you feel very comfortable and gives the best treatments. Really knowledgeable and is very reasonable in what she charges. I'm a happy regular customer
I had been searching for a good reflexologist for a number of years and feel fortunate to have come across Marian. She is knowledgeable and personable and provides an excellent service. Her treatment works for me and keeps me in good health. Five stars are not enough! ?
I have been seeing Marian for migraines for a short while now and in each session she makes me feel very relaxed, she not only has so much knowledge in her field but has a lot of passion for helping others, something very rare nowadays!
My daughter suffers with severe very painful menstrual pains and the doctor just wanted to put her on medication and not delve into why they are exceptionally bad, but Marian will work to resolve the issue. My daughter struggles to relax and trust but with Marian this was never a concern and the first time she had some hand reflexology she fell into a deep sleep!!
Highly recommend Marian @ Hampshire Holistic Mobile Therapies.
Marian provides a polished and professional service and I am delighted with the results from her treatments. I have been having monthly treatments by Marian for a few years now and I will continue to further our journey because her treatments are truly exceptional. Thank you Marian for all that you have done in helping me achieve a healthier well being! ?
It was lovely having reflexology in my own home! Marian is caring and professional, and the treatment left me feeling calm and relaxed. Just make sure you have no commitments for the rest of the day
Really relaxing reflexology. Marian made the sessions friendly and put me at ease straight away. ?
I love holistically thinking people ! Marian has a magnetic energy around her which I am sure is what makes her truly magical. Her energy is up lifting I would recommend her in any holistic treatment, You can be sure it will be magical! Love & light in all you do Marian ?NS
Marian is one of the most genuine caring ladies I have ever met, her Nikken Products are life changing along with her passion to help everyone is inspiring ♥️ DH
Wonderful! Just had ear candling. Brilliant so relaxing and seen improvements straight away! I will be back!
Yesterday I had the pleasure of visiting Marian and experiencing a facial reflexology with facial uplift. What an amazing treatment!! Marian is s highly experienced therapist who definitely knows her trade. If you've never tried it I highly recommend you do. What I also found truly fascinating was the heat I felt coming through Marian's hands as she worked. Warning though, don't plan to do very much after your treatment - I was so relaxed I couldn't stop yawning and could happily have gone to sleep. Thank you Marian, I will be back. SD
I have just had a reflexology treatment with Marian - what can I say except it was absolutely amazing. She truly has the magical touch, so much so that she sent me to sleep during the treatment. It was incredibly relaxing. She picked up on a few other areas which could be causing the issue and made me feel at ease throughout the treatment.
Marian treats me for my migraines and it works wonders. Highly recommend her. KB
Marian does a fantastic job… being a great advocate of reflexology, I was surprised to find that it can be very beneficial on the face also. Although this treatment wasn't reflexology per se… it is a natural face lift massage, incorporating a small amount of facial reflexology, lymphatic drainage, and unique lifting massage techniques. After my wife had mentioned it, I thought I'd give it ago. Wow, firstly I couldn't believe how relaxing it was. I'm not a particularly stressed person but could imagine how beneficial it would be. Second, I slept better as a result of the treatment and my face felt really invigorated afterwards and in the morning. My wife said the bagginess under my eyes also look less pronounced. I would certainly recommend this treatment without any doubt at all. Thank you Marian. SF
I just had the most amazing, wonderful 'face lift massage' - so much more than a facial massage, some of it works like reflexology and i just felt incredibly relaxed and peaceful! And to top it off I couldn't believe the results when comparing the before and after pics!! Well worth it, I really enjoyed the whole experience and Marian is just lovely! JH
I have regular reflexology and find it totally relaxing. I also believe it aligned my body as I fell pregnant soon after starting my sessions. NI
Great treatment with Marian yesterday. As a therapist myself it's always interesting having a session with someone else. Marian picked up on the health issues I have and some more!! I love reflexology. Thank you for a very relaxing session Marian. VH
Wow - just had a very relaxing session of Reflexology with the lovely Marian. She picked up on lots of areas I've been struggling with just by touching my feet. She puts you at ease, but was also happy to answer my inquisitive questions about what she was doing as we went along! Whether you have a specific health issue, or would simply like some time to relax and switch off, I can highly recommend Marian's services! VB
Amazing! I have never tried this before, it was fantastic. Very relaxing too! AB
I had my first ever experience of reflexology with Marian yesterday. Not only did my feet feel great (and I use them quite a lot), it also left me feeling beautifully balanced mentally and physically. Relaxing and reinvigorating at the same time - and I slept like a log last night. I highly recommend booking a session with Marion. LW
Marian explains everything so well, and tells you what you're likely to experience. An amazing session which left me feeling lovely and her prediction as to what would happen after her she left was spot on. I've already booked my next session, so would highly recommend. KH
Marian does amazing treatments! Had a back massage & reflexology over the weekend! Been seeing Marian for treatments over last couple of years now. I highly recommend Marian. CD